Saturday was a long day for me... I was out for the WHOLE day! Nevertheless, those are important things that I cannot don't do! First of all, I attended Xueling's church wedding at City Harvest, quite romantic. I reached at 10:30am and it rained when we were having buffet at 5th floor rooftop. 天不作美!
Not long after, I rushed over to NAFA to help Acid with the choir performance. John, Ferlyn and me were covering stage management, quite tiring but fun! Wanna thank John for the help cos the duration was really really long. 1:30pm till 10:30pm!!! When everything ended, Ferlyn 重色轻友 went off first and I sent brother John to chalet. By the time I reach home is already near 1am!
Now see brother Acid in action...
Don't play play, Conductor cum Vice President leh!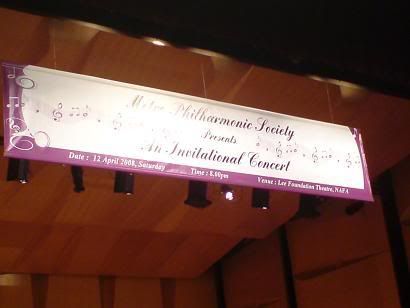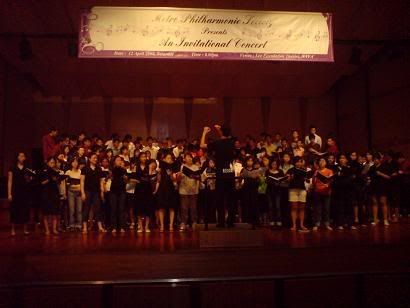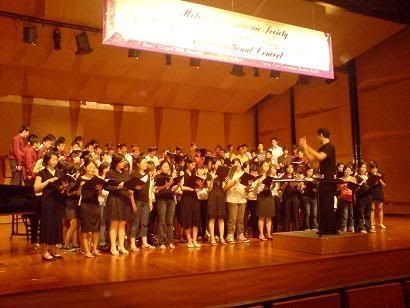 Sunday, jamming day... a session without YingZhi and Acid. Acid is taking a few months break due to his busy schedule. He mention that he would like to be on acoutic guitar when he's back, so YingZhi will be taking over the main keyboard. I am also planning her to be the 2nd vocalist, however due to her having something on, she did not come the jam session. I invited ZhiTian along to observe and comment on our session. I think it'll be good to have another person to give comment and also to make us play better since there is "audience" with us... It was quite a fruitful session which I think we improved a little, just that we really got to sort out the songs to play and those that we want to take out.
Anyway the following pic are taken during previous jamming...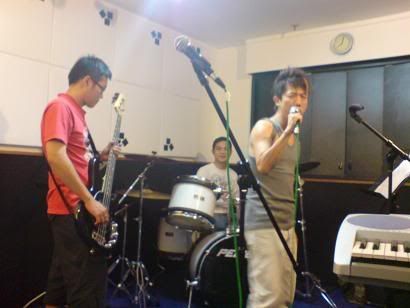 Tat's me singing...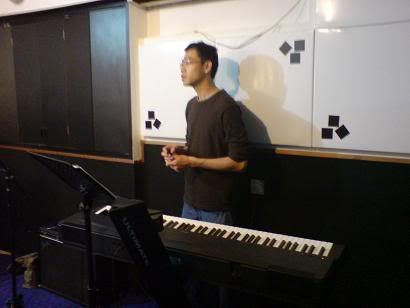 Acid really got the "teacher" look...



WenHan and Charles!
Today, first day of work... was back to engineering field. I met my new colleagues and was trying to adapt to the environment. I felt that I make the right choice to join this company and everything seems fine... so I only hope things will continue to be good and I'll try to learn things fast and be an efficient worker haha...
Since I knock off at 5:30pm and my office was so near my house, I took the chance to blog a little and when I'm more free I'll try to upload the pics to make the posts more "picture-ful" ... haha VERY BROKEN ENGLISH!?!?!?